Core drilling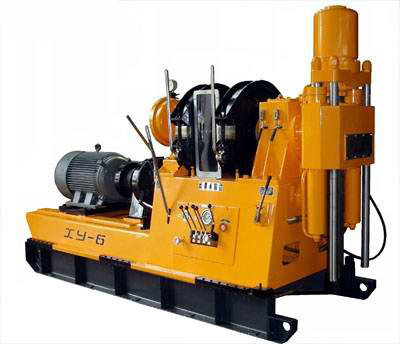 1.XY-6 Core drill rig has various high efficiency drilling techniques that can satisfy better in wireline coring, impact rotation, directional drilling, reverse circulation continuous sampling, etc. In addition, it meets the needs of general method of aperture matching and has strong adaptability.It is clamped with linking rod force-amplifying spring and has structure such as hydraulically released normally closed hydraulic chuck as well as the hard alloy welding-type slip structure. Besides, it has strong clamping force, long lifespan and reliable performance.Allow monitoring and alarming on the parameters such as torque, drilling pressure, pump volume, pump pressure rotational speed and so on to prevent and reduce accidents in the drilling projects.
2.XY-6B core drill rigs has equipped with 8 adjustable rotational speed in the range of 80 r/min to 1000 r/min.
Equipped with water brake, stable and safe while lowering the drilling tool.Equipped with wet clutch, allows smooth start and equipped with braking system.The hydraulic system is equipped with a special valve port that can be used with the equipped machine which is used to loosen or tighten the pipe.It has large back and forth stroke distance, convenient for aperture drilling work.Vertical stroke has diameter 96mm, satisfy the needs of multi-drilling techniques.Ideal overall weight, adopts the modular design which ease the dismantling works and convenient to be transported.